Contents
View and manage courses in Course Creator
When your organisation has a lot of courses, you may need to search for them to make edits.  
View and manage the courses in Course Creator developed by your organisation in three ways. The courses you can view will depend on your permission. 
Log into Course Creator, select the courses tab. 
1. Search bar
Use the search bar. Start typing the name of your course and it will return results based on your search term. Type at least three characters to activate the search.
Results are initially ordered by run, with the latest run first, but you can also order results by code or start date.

2. Pin courses
Pin courses that you frequently need access to. 

To pin a course simply click on the pin icon in any search result, or course card in Course Creator, and it will appear in the courses page under the pinned heading.
3. Recently updated
Contains the eight most recently updated courses for your organisation. You cannot control the courses that appear here. 

Manage course and manage course run
Both the search results and the cards contain two links: Manage course run, and Manage course.
The Manage course run link will take you to the current run of that course, here you can update information about the course run, including editing content.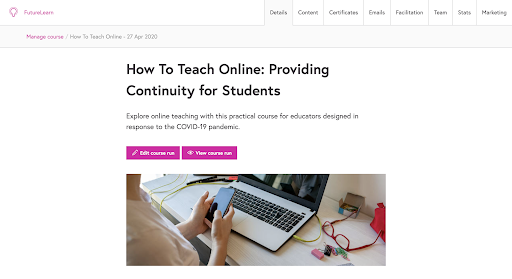 ||

The Manage course link will take you to the Manage Course page, where you can edit information about the course, and also see all the runs of that course.
All courses page
View all courses from your organisation, you have access to, grouped by course and in alphabetical order. Select the 'view all courses' button in the top right when in the courses tab. 
View active, sandbox, and retired courses, find courses you don't know the name of, find links to manage course runs, and edit the course information.
20 courses appear per page. Select 'show more runs' in the bottom left to see more. 
Terminology on this page that you aren't familiar with? Check out our glossary.