We have always tried to create course creation tools that are easy to use yet allow for a high degree of flexibility in the way that steps are combined to realise different learning designs.
While an easy-to-use environment to author learning experiences with, the platform has several tiny quirks or "pleasant surprises" that often go unnoticed and perhaps underused. I wanted to take a moment to highlight five such affordances that you might not have noticed and that can open up interesting learning opportunities.
Audio steps and Inline audio
This is a way of integrating audio into steps as inline elements. This expands the options for using Audio in courses to enrich content, offer new learning experiences and perhaps lighten the burden on media production.
Audio Steps are perhaps the 'ugly duckling' of FutureLearn's pedagogic LEGO bricks approach, making up only 0.9% of steps across all courses. These steps bring the audio to the fore, presenting the player at the top where you will normally see video, with the step body shown below. They are powerful ways of integrating assets such as interviews into a step where the recording is the main content focus.
Where audio is not the primary content, but instead acts to illustrate ideas and notions in the content, you can use inline audio to embed it and avoid breaking the flow of text. This might be used to demonstrate pronunciations, or add examples to bring the material to life.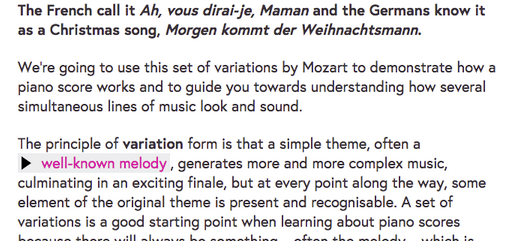 This is achieved by uploading the audio as an asset using the form in the course creator (only on Article steps) and then linking to that address as you would a normal web link. The platform will then insert the inline player automatically.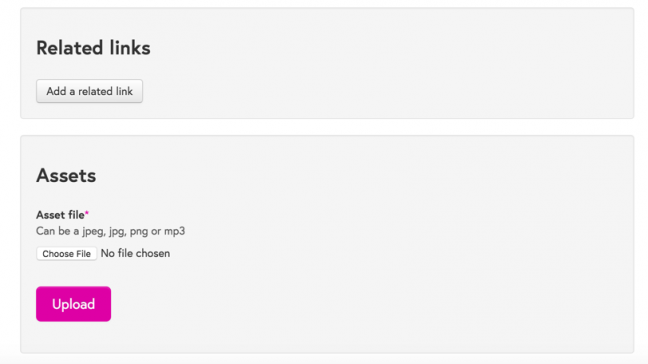 Markdown in quiz questions
Tucked away at the top of the 'Edit question' screen is this little nugget:

Every field in a question accepts Markdown, and thusly everything that can be rendered in normal step content. This means you can insert images, inline audio (as shown above), links or just basic text formatting to question text and feedback. This is true for all fields on the platform that are marked as accepting Markdown.
Adding a glossary
Using the following markdown in an article step will create an easily navigable glossary for your learners.
###[A](#a) [B](#b) [C](#c) D E F G H I J K L M N O P Q R S T U V W X Y Z
[ ](#top)
* * *
##A
###Apple
- Definition goes here
###Apricot
- Definition goes here
[Back to top](#top)
##B
###Banana
- Definition goes here
[Back to top](#top)
##C
###Cherry
- Definition goes here
[Back to top](#top)
Linking to a specific section of a step
Whenever you add a 'heading' in Markdown, you are also creating an anchor at that point in the page which can be linked directly to. The address for this link can be ascertained by taking the step URL (note, not the editing address in Course Creator) and appending #heading-text-with-dashes-instead-of-spaces
This allows you to reference specific sections of content across steps—perhaps highlighting a particular segment of an Open Step you wish to direct learners towards, or create useful reference guides such as a simple glossary step: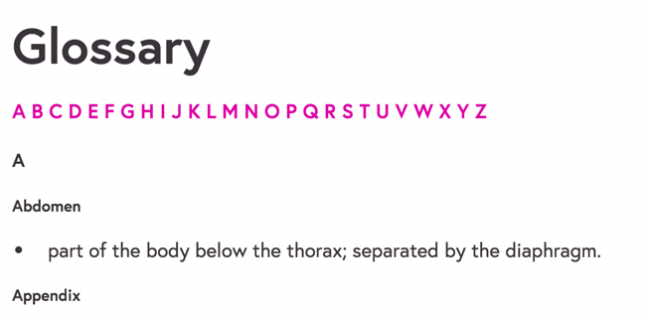 Single-question quiz steps
Assessment is at its best when it is timely, evenly distributed and normalised within the learning experience. While comprehensive and encompassing Quizzes are certainly important in course design, short single question moments of assessment can be powerful and perhaps less intimidating than an 'end of week test'.
Creating a Quiz step containing a single question results in a learner-side experience that doesn't include the intro or summary steps, and appears more like an Article step. Combined with creative writing, you might be able to craft interesting learning functions such as self-assessment, traffic lighting, or reflective questions (you know that every answer on a question can be "correct" right?)